Nature Boys Concept
Nature Boys
NatureBoys would like to cherish the surprise and excitement of fishing that everyone felt as a child, and the heart that felt fun fishing.
And even now, as an adult, I enjoy fishing with a child-like mind through lure fishing, and I will continue to create fishing gear using environmentally friendly materials so that the rich natural environment will remain for future generations. .
Nature Boys Concept
Natureboys values the feeling of surprise and excitment of fishing everyone experienced as a child,along with the enjoyment of fishing.
Even as an adult,while enjoying fishing like a child by using lures,we would like to produce fishing equipments using environment-friendly materials in order to leave the environment rich with nature for the future generations.
http://bigoceanjapan.com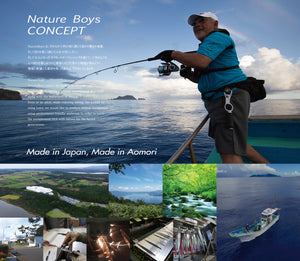 Reasons to keep choosing iron
Fishing results brought by specific gravity

"This jig attracts fish"

Hitoshi Suzuki
Reduction of environmental load

"Let the rich natural environment remain for future generations"

Papa Otsuru
"Iron jig" born from customers

The name "iron jig" was given by the customer.

Shinichiro Wada